Deposit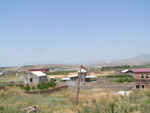 The currently available material on the market has its origin from the eastern part of Europe. It comes from the Caucasian mountains in Armenia where - for the time being - the sole important deposit is located. This place offers a great variety of different obsidian types but the Midnight Lace Obsidian is for sure the most spectacular one.
Although the conditions were very difficult (poor infrastructure) the obsidian hit the market quite recently. Furthermore the political situation is very unsettled and the caucasian area is most remote and very mountainous.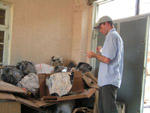 Already in the Stone Age obsidian was quite a popular material and has been used for thousands of years for tool making. Sharp shards of obsidian were formed into arrowheads, knifes, blades, scrapers, spear tips and jewellery by many cultures. Obsidian is also known as volcanic glass and therefore a great deal of obsidian was even used for mirrors.
The fact that obsidian was used by many different cultures helps to better understand earlier trade channels.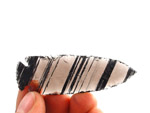 Midnight Lace Obsidian can also be found in the United States (Oregon) but the quantitiy is rather small so that it is not economically.